---
Glassblowing Class Information
Classes are offered Tuesdays and Wednesdays early evening (Class start time may change in June)  Classes are not offered in July or August due to high temperatures.  One-on-one classes last about 1.5 hours and classes with two students last about 2.5 hours.  Each class can contain only up to two students. Each class costs $195 + tax and processing fee per student, *Pick up your TWO Paperweight Creations the next business day after 3:00 p.m. To book please scroll down to the correct class and click Register Now.
---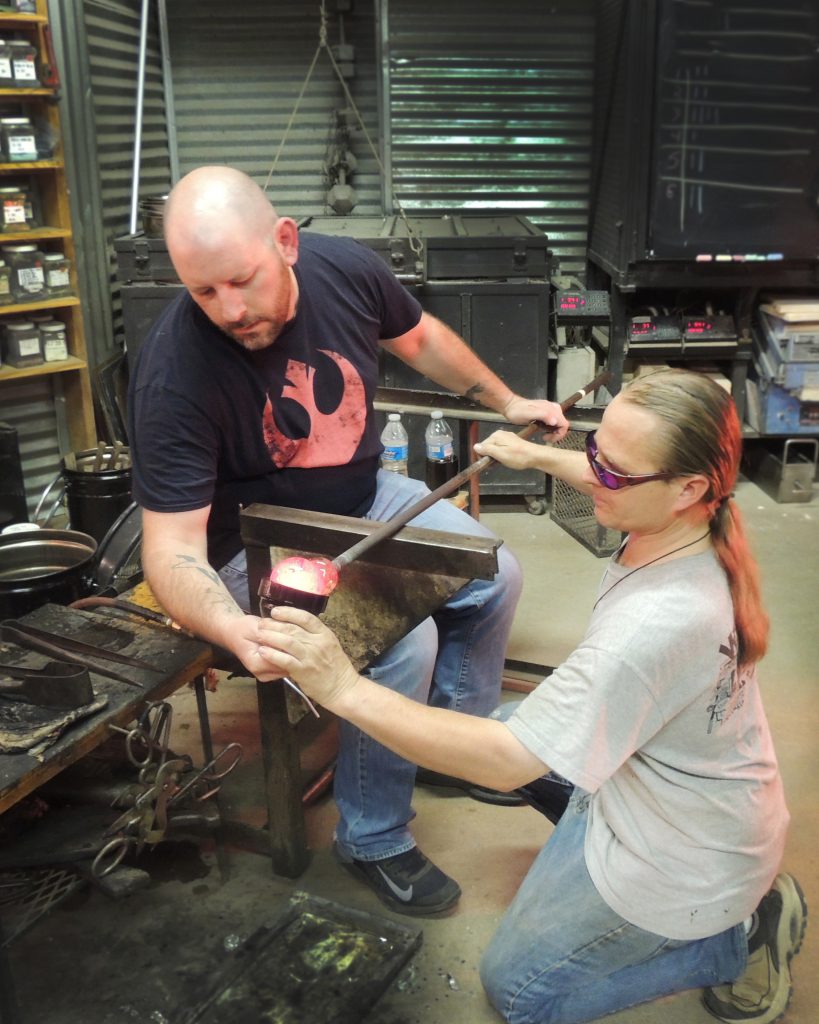 Paperweight Class I
An introduction to techniques and skills such as gathering, centering, blocking, and marvering
An introduction to glassblowing machines, tools of the trade and proper shop etiquette
A demonstration paperweight is created by the instructor as a glass teaching tool
Learn basic color application using powders and frits. Create and keep two (2) paperweights: one clear and one with color (results may vary)
No prerequisites and no prior experience needed!
---
Paperweight Class II
***Prerequisite: Must be able to successfully create two (2) paperweights in the Beginner Paperweight Class (see above) ***
Further practice of glassblowing techniques such as gathering, marvering, jacking, flashing, centering and breaking off finished products for annealing
Learn advanced color application such as finger bits and thread wraps
Create and keep two (2) paperweights with color (results may vary)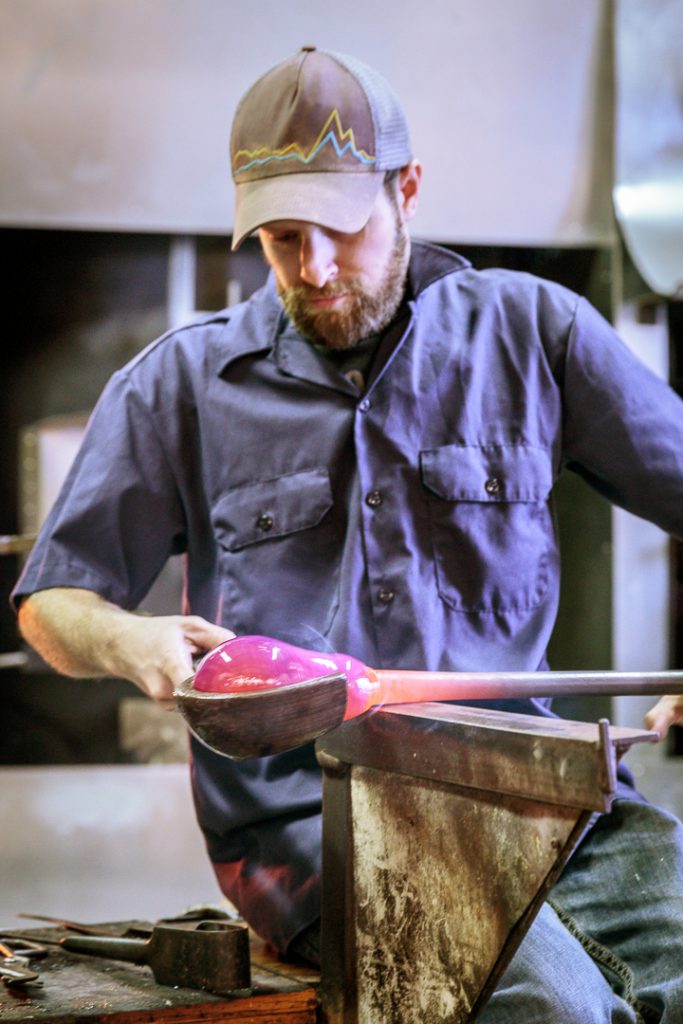 ---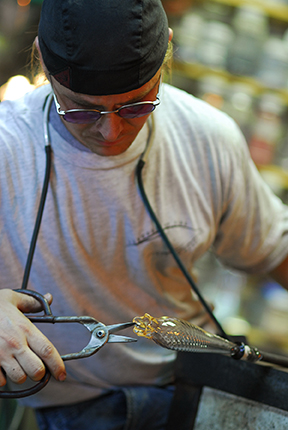 Glassblowing Workshop
Must take Paperweight Class I and Paperweight Class II before the Glassblowing Workshop) Glassblowing Workshop includes:
Assessment of current skill levels will include: Take a clean gather of glass from the furnace, marver or newspaper, proper use of the jacks, proper heat and flashing, keep glass centered on the pipe, and break off the piece from the pipe.
Detailed explanation of blowing processes, new tools, and review of proper shop etiquette
Creating the starter bubble!
Detailed, step-by-step demonstration of how to blow a piece
Remaining session content may vary from student to student.
If an instructor decides student is ready, the student will attempt to make a shot glass or toothpick holder out of his/her starter bubble
Mini-workshop on punties (shaping, appropriate sizing and temperature to piece intended)
---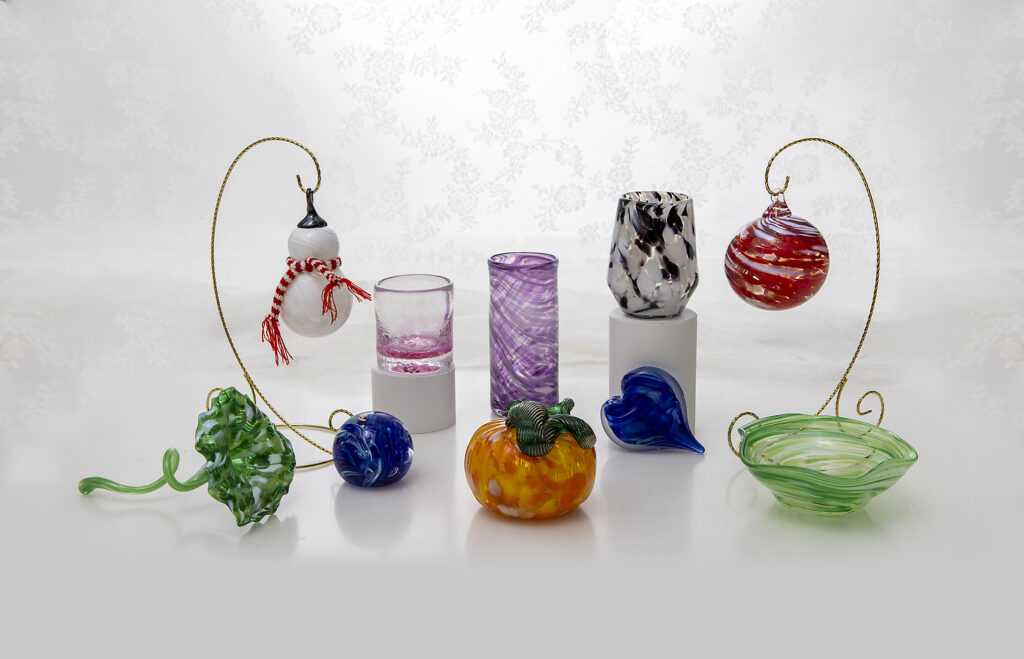 Help Create Events
In addition to classes, we offer public Help Create Events most weekends.
Join the team and help create your own glass art item which rotates throughout the year.
Must register ahead of time – no experience necessary!
---
Additional Information
All workshops and classes are held at VETRO Glassblowing Studio in Grapevine TX. VETRO supplies all tools, glass, and color within your designated time slot. You must be at least 14 years of age and no shorter than 42″ in height in order to operate the equipment safely. Minors under the age of 18 will need an adult chaperone and both must sign a waiver. The paperweights must anneal (cool and strengthen) for a period of time after the class and will be ready for pickup or shipping 2 business days following the class. Shipping is an additional charge. For all workshops listed above, the workshop is a learning experience and an advancement of skills. Vetro cannot guarantee that the actual pieces created will be successful.
What to wear: cotton clothing, closed-toe shoes, hair pulled back securely, sunglasses (if needed)
Please eat a well-balanced meal before arriving for your class. Water and sports drinks are recommended; caffeinated beverages are not. A water fountain will be available to you at all times outside the studio. All Alcoholic beverages and illegal substances (before and or during any workshop) are strictly prohibited.