Vetro is celebrating 2020 with fire and flames! Join us on Saturday, January 18th and Saturday, January 25th as we welcome the New Year full of things that have never been. Are you ready to try new color mixes and patterns? Join Vetro's team while we do what we love best …playing with fire!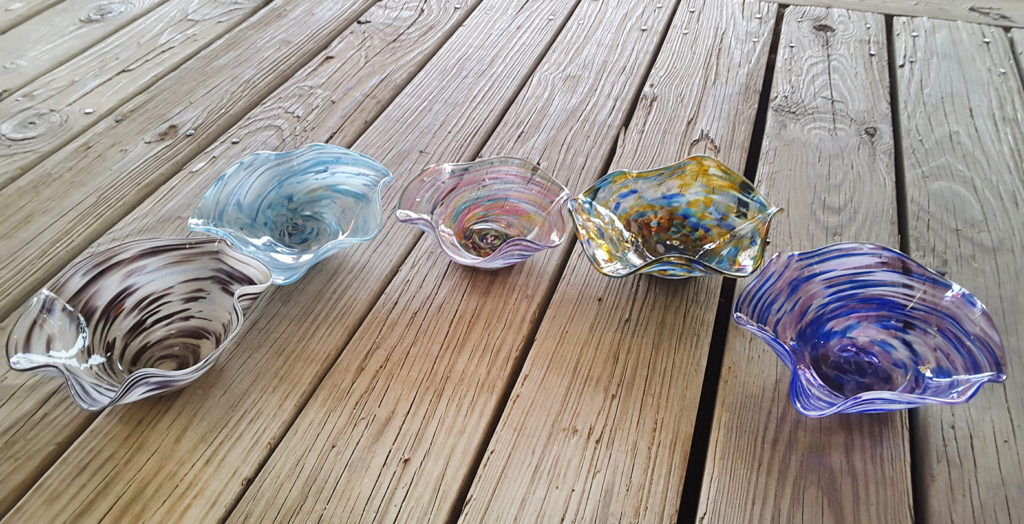 CLICK ON THE DATE YOU WOULD LIKE TO REGISTER!!!
Pricing: Glass Flared Bowl: $65.00 (plus tax) per bowl
The Process:
Gallery Check-in at the front desk and sign participant waivers
Entering Studio you then will be directed into the studio where the glassblowers will call you up during your time slot to Help Create your glass piece
Choose from a selection of 5 color schemes
Apply your own color to the molten glass
Heat assisting glassblowers with melting the color into the clear glass on the blowpipe (14 years and older)
Watch while the artist shapes your Flared Bowl
Pick up your glass artwork the following business day after 3:00 p.m.
Cancellation policy:
Should you need to cancel, we must be notified by 10 a.m. the day BEFORE your reservation.
A Processing Fee of $10.00 will be deducted from each of your time slots for your refund. Should you need to reschedule a $5.00processing fee will apply to each time slot.
Time slots for creating glass are limited because of the space we have in the annealers. We want to make it fair to all our glass, loving patrons so we have built-in a stick cancellation policy.
Please keep in mind that all notifications after 10 a.m. the day before your scheduled date are non-refundable and will not be rescheduled.
Should you miss your appointment you may contact the gallery and let our studio staffs know the color you would like to choose out of the Help Create color mixes and your product item will be created for you.
Important to Note:
Pieces made on Saturday can be picked up after 3 p.m. the following Tuesday or any other day during Gallery hours; the glass pieces must cool for at least 24 hours. The gallery is open Tuesday-Saturday 10 a.m. – 6 p.m. and closed Sunday and Monday.
Due to the nature of glass, there is a possibility that your glass art piece could break or crack during the cooling process. If this happens, one of the gallery employees will call with two different options: (1) one of our glassblowers can re-make the glass art piece and you can pick it up or have it shipped (for an additional fee); (2) you may choose an like item from the pre-made glass pieces in the gallery (3) you can schedule a time to come back to the Vetro Studio and re-make your art piece!
Kids of all ages welcome to observe; under 18 must be accompanied by an adult. Kids under 14 years of age may choose and apply the color but will not be allowed to get close to the furnaces.
What to Wear/Bring:
We recommend all clothing to be cotton
Long pants recommended
Closed-tipped shoes (i.e. tennis shoes)
No billowy sleeves
Long hair should be pulled back securely
Sunglasses if you are sensitive to light