To help add some FUEL and FIRE to your romantic Valentine's Day, Vetro is offering our annual HOT DATE NIGHT! Celebrate being the hottest couple in Texas with Flaming Cocktails, Sweet Treats, and of course…Hot Molten Glass.
Reservations Required – Book online NOW to reserve your time slot for the most romantic and unique date of your life! (Click the date below)
CLICK THE DATE FOR WHICH TO REGISTER:
---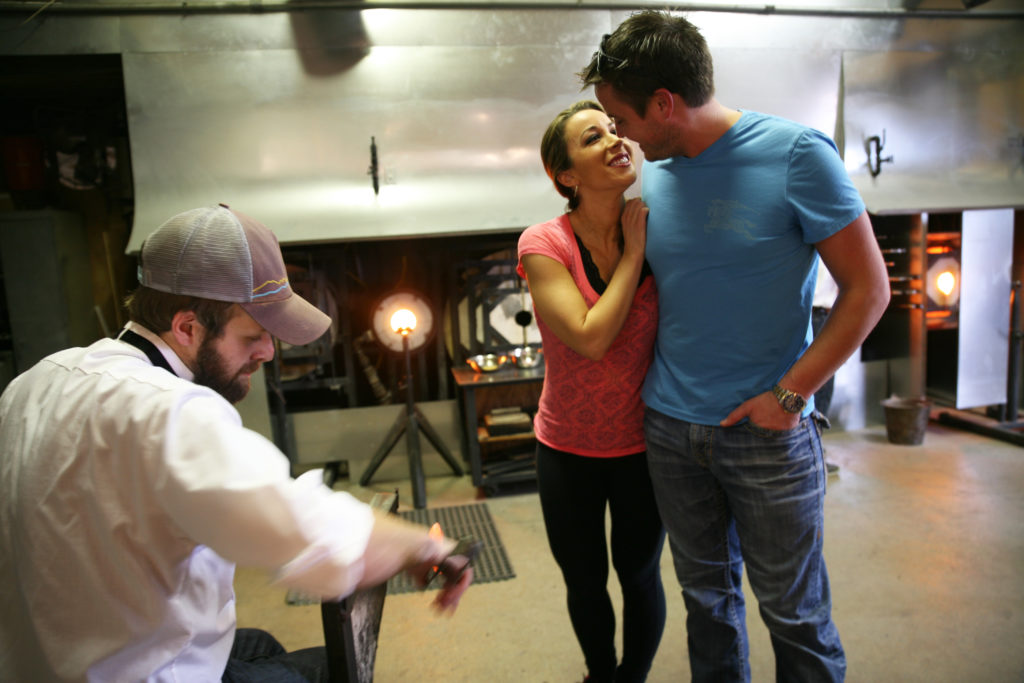 You and your lovely date can register online for a one-on-one class with one of our Glassblowers to Help-Create keepsake Hearts and Flowers for Valentine's Day. Celebrate the most romantic day of the year with this unique date night while enjoying delicious Sweet Treats and a couple of Flaming Cocktails to toast this Season of Love.
---
The Price:
$165.00+tax per couple/reservation
(1) reservation is equal to (1) couple – each couple only needs 1 reservation
Each couple creates (2) pieces your choice of (1) Art Glass Flower and (1) Art Glass Heart -or- (2) Art Glass, Flowers
Each couple receives (2) Cocktails (2) Wine or Beers – or (4) Complimentary waters and or sodas will be available, as well as Delicious Sweet Treats for each couple to share together!
Plan about an hour stay for your "Hot Date Night" experience!
Must be 21 years of age or older to drink alcohol
RESERVATIONS REQUIRED – register soon online!
The Process:
Choose ANY color available in the Vetro color palette – each individual gets to design his/her Heart or Flower
Help apply the color to the hot molten glass gather
Work with your designated glassblower to heat the glass in the 2,000-degree furnace
Remain with the glassblower while he creates your Heart or Flower
Pick-up your glass art pieces the next business day after 3 pm or have it shipped for an additional fee
What to Bring/Wear to your Help-Create:
All clothing must be cotton
Long pants encouraged but not required
Closed-toed shoes (i.e. tennis shoes)
Cotton shirt – no billowy sleeves
Sunglasses if your eyes are sensitive to light
Please Note:
Cancellations made within 72 hours of the designated time slot are non-refundable. (see details below)
Cancellation Policy: Should you need to cancel or reschedule, a processing fee of $25 will be deducted from your refund. We will NOT be able to reschedule nor provide a refund for no-shows. Outside alcohol consumption is prohibited during your appointment; intoxicated customers will be canceled without refund.
Your Hearts and Flowers will not be available for pick-up until the next business day after 3 pm or can be shipped for an additional fee.
Due to the nature of glass, there is a possibility that your glass art piece could break or crack during the cooling process. If this happens, we have three different options: (1) You may choose out of the Help Create color mixes and your artwork will be created for you. (2) You can choose the same type of art glass piece form Vetro's gallery; (3) You can schedule a time to come back to the Vetro's Studio and re-make your art glass piece!
Kids of all ages are welcome to participate (children under 18 must be accompanied by a parent or legal guardian in the gallery and in the studio at all times).