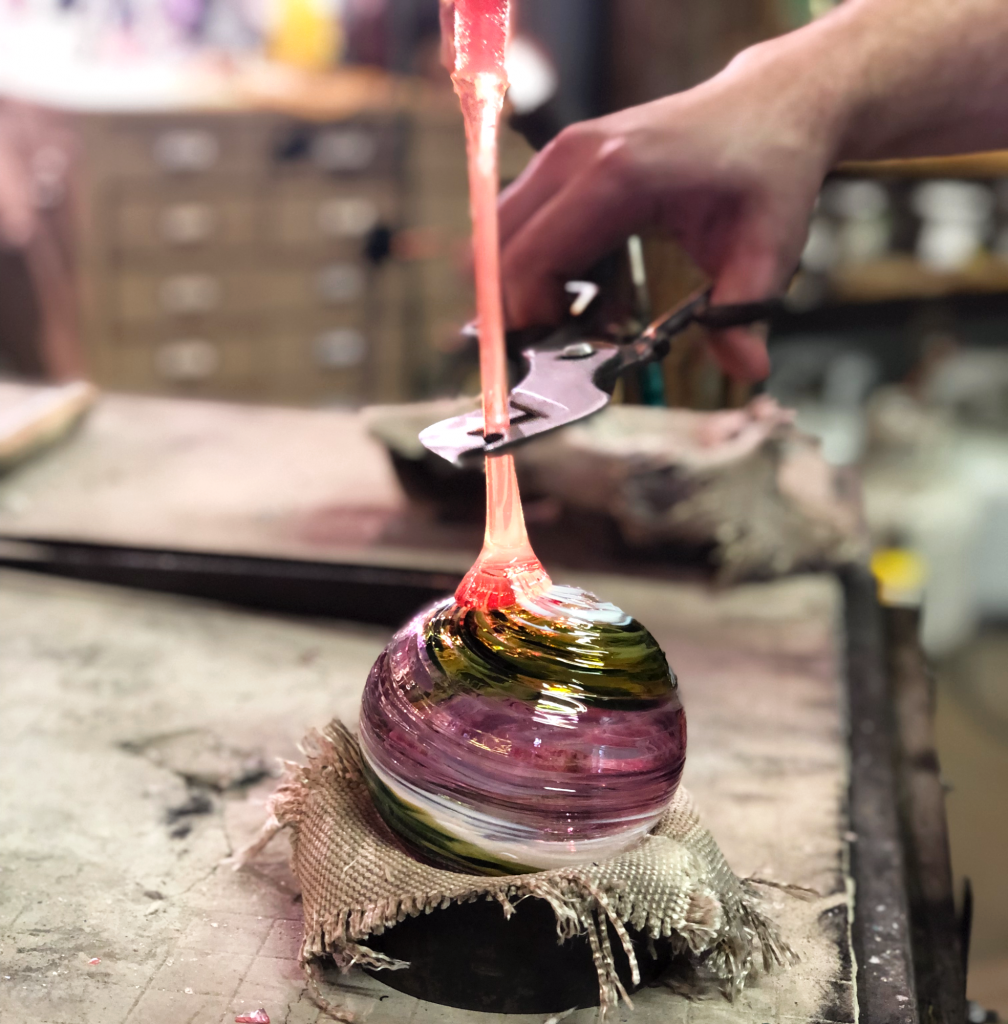 Bring the whole family to Vetro to make your handmade ornament!
Our Ornament Help-Creates are the perfect photo opportunities where memories and traditions are made! Decorate your Christmas tree this year with your own glass art. Considered the best fiery Holiday gift.
Start the cold holidays with a warming welcome.
Pricing Information
Extreme Ornament Public Help Create: $50.00 (plus tax) per glass piece
---
Extreme Ornament Events Include
Online Registration for pre-selected time slots!
You will choose from our entire color palette of glass
Apply your own color to the hot molten glass
Reheat the color in the 2,000-degree furnace (14+yrs)
Assist the artist while they blow and shapes your Glass Ornament
Pick-up glass piece the next business day after 3pm or have it shipped for an additional fee
---
Click Here to Register
Cancellation Policy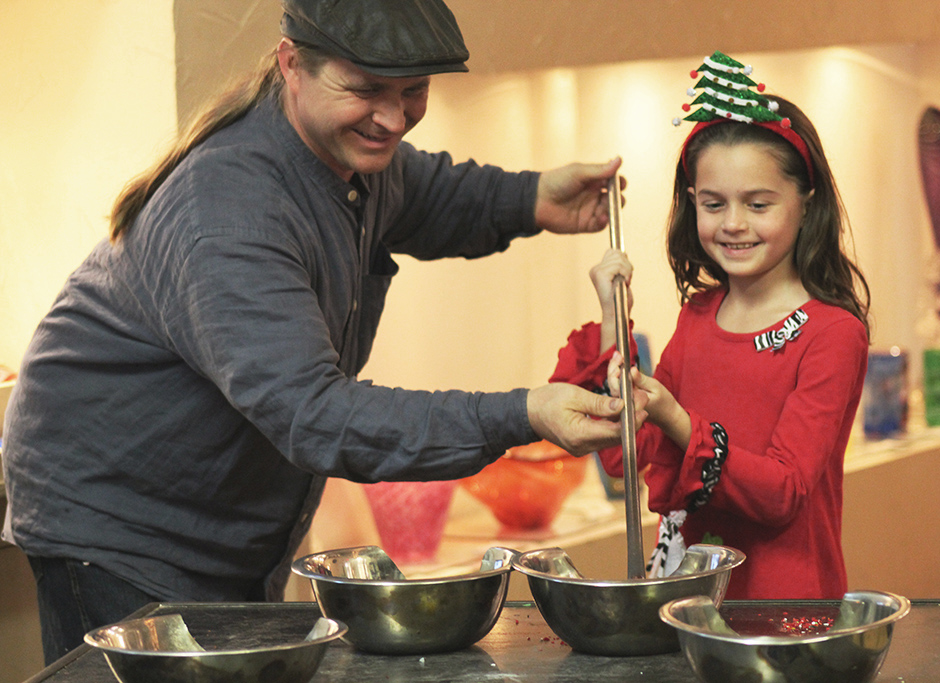 If cancellation is needed, Vetro must be notified by 10 a.m. the day BEFORE your reservation. A processing fee of $10.00 will be applied to each time slot.
Should you need to reschedule a $5.00 processing fee will apply to each time slot.
All notifications after 10 a.m. the day before your scheduled date are non-refundable and will not be rescheduled.
Should you miss your appointment, you may contact the gallery and let us know the color you would like to choose and your art piece will be created for you.
Notes & Details
Reservations are required! (One person per time slot)
Arrive 15 minutes prior to your reservation time to sign your waiver
Pick up your artwork the following business day after 3:00 p.m.
Kids of all ages are welcome to participate; under 18 must be accompanied by an adult at all times
What to wear: cotton clothing, closed-toe shoes, hair pulled back securely, sunglasses (if needed)
---
Parking Information
With Free Shuttle:
1201 Municipal Way (Grapevine Public Library)
Without Shuttle:
815 S. Main St (corner of Main Street & Dallas Road)
400 W. Dallas Rd (across the street from the Police Department)
Handicap Parking:
814 S. Main St. (Chill Sports Bar & Grill)
815 S. Main St. (corner of Main Street and Dallas Road)
---
Not the Extreme Type? That's Okay!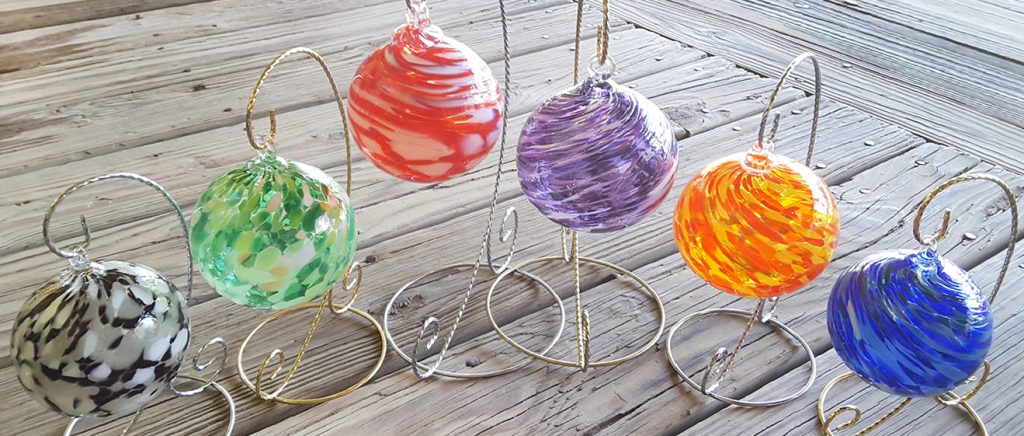 Only Gallery Check-in at the front desk. No reservations will be taken for the Traditional Ornament Experience. This is a first-come-first-serve event!
You select colors from our Six pre-selected color palettes of glass
You apply the colors to the Hot Molten Glass
Watch the glassblowing artists finish creating your ornament right before your very eyes.
Pick-up glass piece the next business day after 3:00 PM or have it shipped for an additional fee
---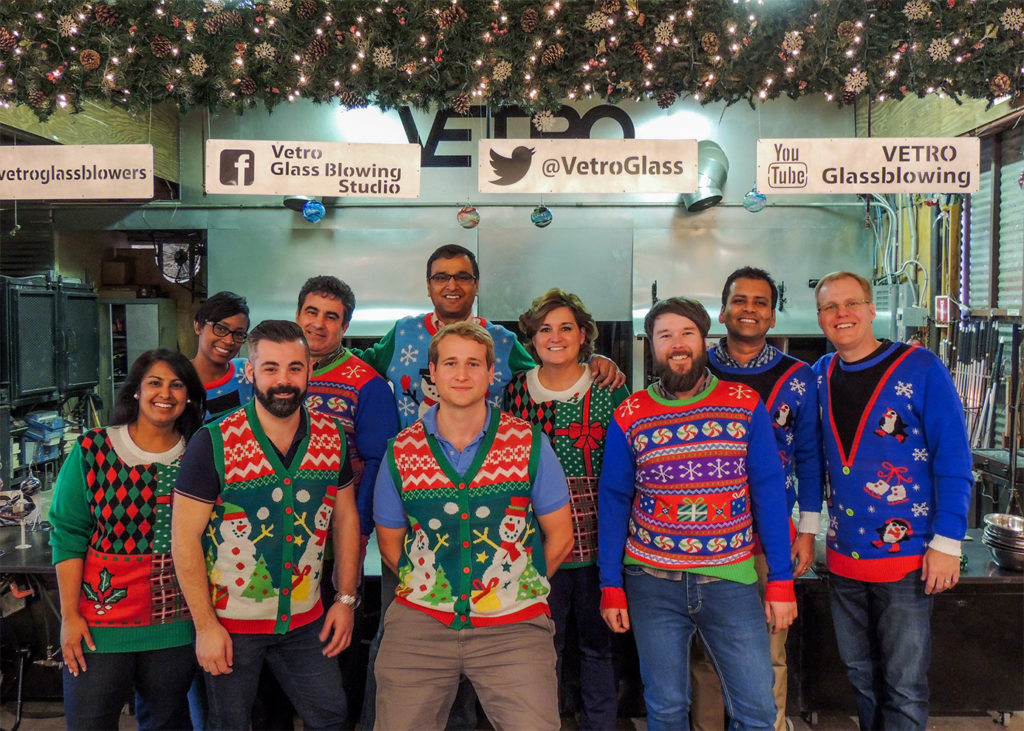 Reservations are available during other times of the week for groups with a minimum of 15 or more. Call the Gallery to schedule it today!