Hope and Healing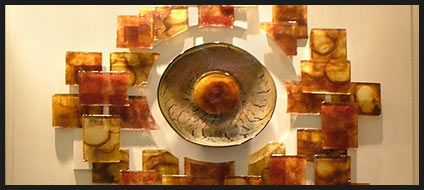 Located at
The Center for Cancer and Blood Disorders
Meditation Room
800 W. Magnolia Ave. 
Fort Worth TX
About
Hope & Healing was commissioned by Texas Cancer Care (TCC) to be the focal point for the Meditation Room of their new facility, The Center for Cancer and Blood Disorders in Fort Worth TX, which opened in February 2005. Barry Russo, executive director of TCC, along with Karen Kroh of Quorum Architects Inc, the firm commissioned for the interior design of the facility, granted artists David Gappa and Gary Hayes of Vetro Glassblowing Studio & Gallery in Grapevine TX with the quest of designing and creating a glass installation that would encompass the organization's mission for their new facility: "To truly be a place where cancer patients can receive treatment for body and soul – the whole person…a place of learning, and one of hope and healing."
Composed of an intricately designed matrix of approximately 50 cast glass panels with a blown and cast rondel as its centerpoint, this beautifully executed installation creates a dynamically powerful yet profoundly peaceful impression. "For us, this is a composition in color and texture meant to instill a sense of peace within the viewer," says Gappa, co-ovwer of Vetro.
Hope & Healing is now an integral part of a $40 million "urban village" called Magnolia Green located in the heart of Fort Worth's hospital district. According to the research of Sandra Baker of the Star-Telegram, The Center along with HOPE & HEALING has become the catalyst for further development of an 11-acre tract. With The Center as the first anchor of this project, Magnolia Green has quickly gained the attention of national retailers and restauranteurs. Amidst shops, town homes, restaurants, office space, The Center, and a 1-acre park, Hope & Healing will easily and rapidly accomplish its goal of grasping the hearts of many.
Vetro would like to thank Texas Cancer Care and Quorum Architects for this incredible opportunity!
Residential Ceiling
Located At
Private Residence
Southlake TX
About
Sketch in Glass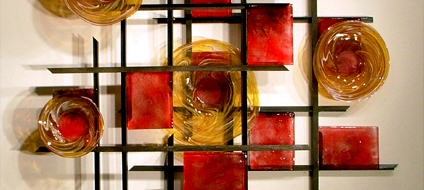 Currently on exhibit at
Vetro Glassblowing Studio & Art Glass Gallery
701 S Main St, Grapevine TX 76051
Elysian Shadows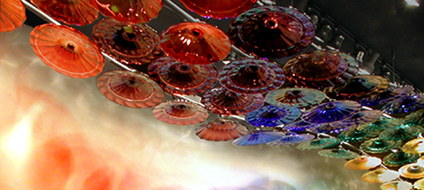 Artist Statement
According to Greek Mythology, Elysian Fields is the abode of the blessed after death. It is a peaceful, beautiful, heavenly place where those who are favored by the gods can go when they die. It is a paradisal place of inspired performance and happiness.
Elysian Shadows serves as a representation of the transition from the temporal to the ethereal world. The glass elements and their casted shadows of light serve as a medium through which the viewer captures a glimpse of elysian paradise.
For VETRO, Elysian Shadows, designed by David Gappa and executed by both David Gappa and David Elliff, marks the beginning of a new phase in which these artists explore and innovatively develop three concepts. First, it is an experimentation of scale, relating the viewer with the object. Second, it is an experimentation of color transition, light refraction and shadow play. The final concept explored with this installation is how a collection of individual components serves as both a defining surface as well as an object of intent.
Resort Lobby Lighting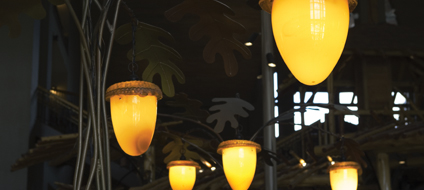 Located at
Great Wolf Lodge
100 Great Wolf Drive
Grapevine TX
Hospital Dream Home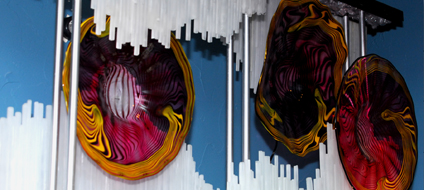 Media Release
David Gappa of Vetro Glassblowing Studio & Gallery in Grapevine TX was personally invited to participate in a project intended to provide much-needed funding for the expansion and renovation of the Center for Women and Infants' Health at Harris Methodist Fort Worth Hospital. The Harris Dream Home, 4,000 square feet of fully furnished luxury living space, was generously built and furnished primarily by local donors.
Gappa was invited by Angela Mallick Interiors, the interior design donor for the Dream Home, to create art glass installations that would create dynamic appeal within the Spanish Mediterranean sanctuary.
"I was raised in Fort Worth, and my wife and daughters were born at Harris Methodist so this is close to us personally," says Gappa, co-owner of Vetro and design team leader. "In order to achieve our purpose in this project, I knew the glass designs needed to be innovative and unprecedented…impacting on the soul, yet comfortable within the space."
Their art glass installations, custom designed to accentuate the ambience of the Dream Home, adorn three key focal points within the home: the Foyer Niche, the Living Room and the Master Bath.
Each features a unique style. The piece in the Foyer Niche consists of 3 glass blown vessels of a deep transparent ruby accented with silver leaf and embedded within a quartz-like mountain of glass. The Master Bath features a series of black, white and matted silver rondels suspended on a curved wall accompanying the color scheme of the space. The Living Room installation displays a landscape of glass with colorful rondels vertically layered within sheets of frosted glass rods all supported by a custom steel frame.
"This home, its design, décor, everything, is targeted toward modern day living. Art glass, though it's an ancient art form, fits right in with that," says Gappa. "Just within the past few decades, people have become excited about glass and its possibilities within the art realm…its vibrancy, dimensions, customizability. We're always trying to educate people about glass. We even have a DVD playing in the Dream Home during the tours that demonstrate us blowing glass."